record K 42 – 4-wing revolving door – record K 42 – 4-wing revolving door
Four-wing revolving door in manual or automatic execution which is available in different design variants.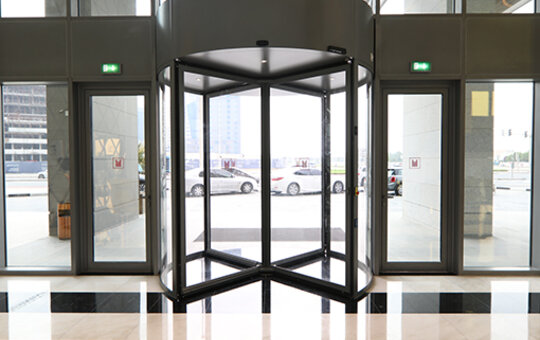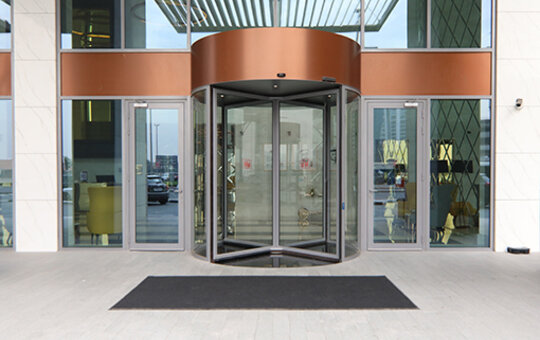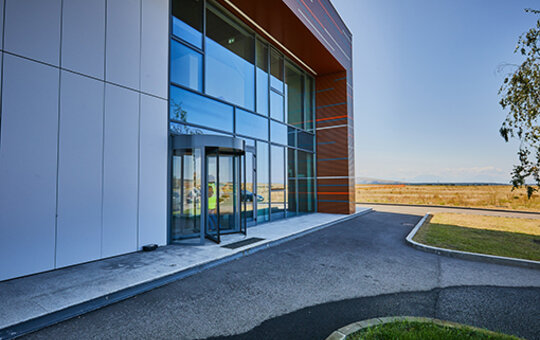 The four-wing revolving door record K 42 is optionally available with night lock. You can choose between the proven ceiling drive and the invisible underfloor drive, the colour design in any RAL or anodised colour or the all-glass version for a particularly transparent appearance. The record K 42 can be equipped with a switchable controller for reduced speed to make access easier for wheelchair users or people with reduced mobility.
Due to the 90° division of the turnstile, each 4-leaf revolving door offers a comfortable use for all users and persons and a particularly high throughput.
The hood construction consists of a sturdy steel construction including thermal insulation while the hood, the flush ceiling and the dust roof are made of aluminium.
Drive variants using the latest technology in conjunction with the highest level of safety equipment are an indispensable standard for record.
Optional burglar resistance class RC 2 or RC 3 according to EN 1627 for increased security requirements.
Certificates: TÜV type approval (EN 16005), burglar resistance class RC 2 & RC 3 (DIN EN 1627)